ZoomGrants allows applicants to quickly check their submitted applications' status without having to continually log back into their account.
Application Submission Confirmation Email
After submission, applicants will receive an email from ZoomGrants with an application status link. This link can be saved (bookmarked) by the applicant and accessed to check the submitted application status.

My Account Home – Submitted Applications
The application status link can also be obtained for any 'Submitted Application' via the 'My Account Home' page by clicking on the orange 'check status' link.
This is the same link that is sent in the confirmation email.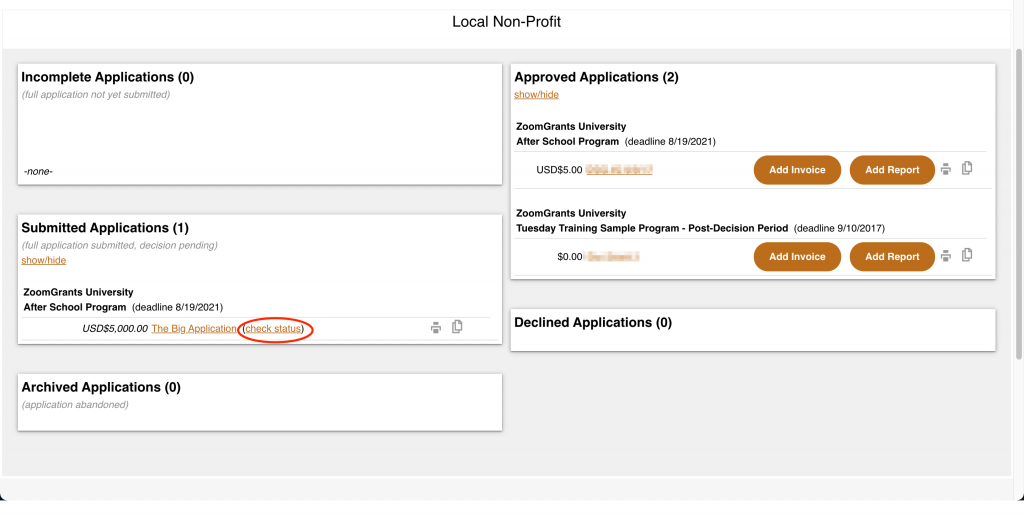 Application Status Page
The application status page provides the necessary details relating to the status of a submitted application.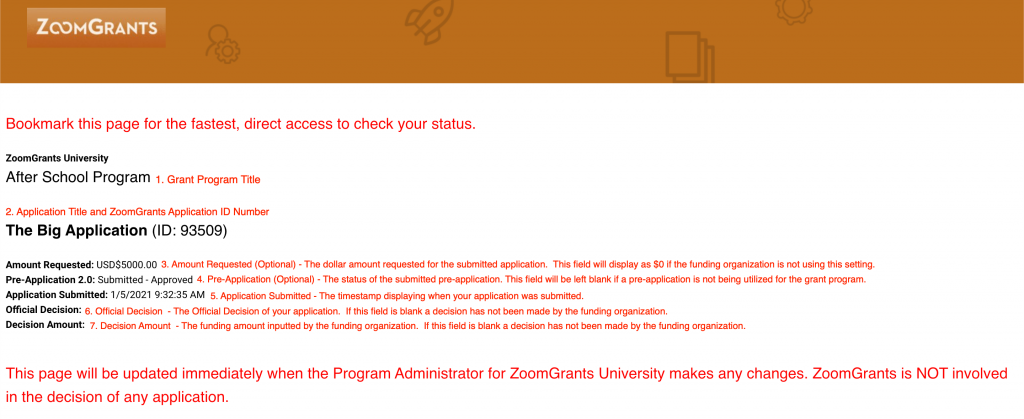 Grant Program Title
Application Title and ZoomGrants Application ID Number
Amount Requested (Optional)

The dollar amount requested for the submitted application. The field will display as $0 if the funding organization is not utilizing this setting.

Pre-Application Status (Optional)

The status of the submitted pre-application. This field will be left blank if a pre-application is not being utilized or if the funding organization has not made a decision.

Application Submitted

The timestamp displaying when the application was submitted.

Official Decision

The Official Decision of your application. If this is blank, a decision has not been made by the funding organization.

Decision Amount

The funding amount denoted by the funding organization. If this is blank, a decision has not been made.
ZoomGrants staff is not authorized and does not play a part in managaging or updating the status of an application. If you have questions about your status, please reach out to the funding organization directly via the 'Contact Admin' tab in your online application.