You'll need to have a ZoomGrants account in order to be able to submit an application to an organization that is using ZoomGrants to receive applications.
Setting Up Your Applicant Account
You can create a ZoomGrants account by following a link provided by that organization. The page may look something like this: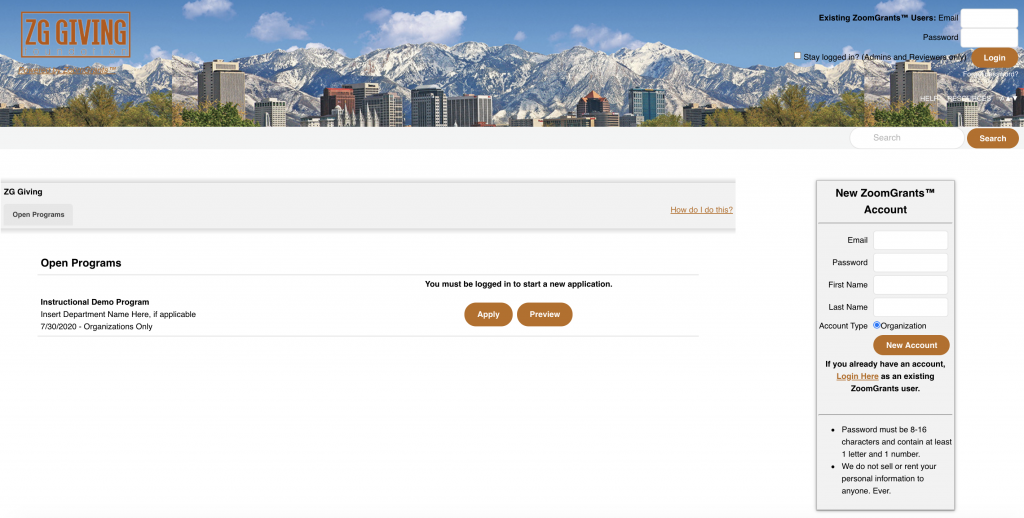 Use the New ZoomGrants Account box on the right side of the page to create your account.
If you are signing up to submit applications on behalf of an organization, here are a few things to keep in mind as you consider who should be the account owner:
Each organization account is owned, accessed, and managed by a single set of login credentials (email address and password).

If you will have multiple people who need full access to the applications in your account:

We recommend setting the email address associated with the account to either be the person who will be primarily responsible for managing the applications for your organization or a general email address, perhaps even an alias that sends emails to multiple people who will be managing your applications. In either case, you can share your login credentials with any other people and they can log into the main account at any time.

If you need to submit applications on behalf of multiple organizations:

You will need a separate applicant account (under a separate email address) for each organization. Since each account is tied to a specific organization, it is not possible to use a single account to submit applications on behalf of multiple organizations.

Additional users can be added to 

individual applications

 within the account. If you have a colleague who just needs access to one application and someone else who is in charge of submitting the invoices for all of your approved applications, the account owner can give that access to those individuals by adding them as Collaborators on the appropriate applications. If you have certain people who should receive email notifications pertaining to a specific application, you can add them as Additional Contacts on that application.
If the account owner leaves your organization, make sure they have shared their latest account credentials before they leave so that you can continue to access the account. If they have already left and you don't have the account credentials, submit a support request so that we can help you transfer the account to someone else and set up a new password.
Once your account has been created, you'll receive a confirmation/welcome email from Notices[@]ZoomGrants.com. Because nearly all notifications from ZoomGrants come from that email address, please be sure to flag that message as not spam, add that email address to your list of safe senders, or add the ZoomGrants domain to your whitelist to ensure that messages from ZoomGrants are delivered to your inbox.
Creating Applications 
After you've created your account, you can create your first application by clicking the Apply button next to the appropriate program.

The page will reload to display your newly created application. If the admin is requesting an application or project title, fill in that field so that you can quickly identify which application you are working on.
After creating your first application, you can create additional applications (if the program administrator is allowing multiple applications to be submitted) by opening up your first, original application, then clicking the Open Programs tab in the upper left section of the page. If the admin is allowing applicants to submit multiple applications, you will see an Apply Again button. Click it to create a new application.

After you've created your account and your application(s), you can continue to log in via the link provided by the organization, or you can log in on the login page of our website.