If you need to export your data for archival purposes or you want to get into some serious data manipulation, click into the Data tab, where you can export your data at any time.
How It Works
Creating Custom Reports
One way of exporting your data is to create a Custom Report that sends the results to an exported .CSV (spreadsheet) file.
For help manipulating CSV data, do a web search for resources, or check out one of our resources here: CSV Manipulation.
Using ZG Standard Reports & Exports
Dashboard > Data Tab >> Standard Reports and Exports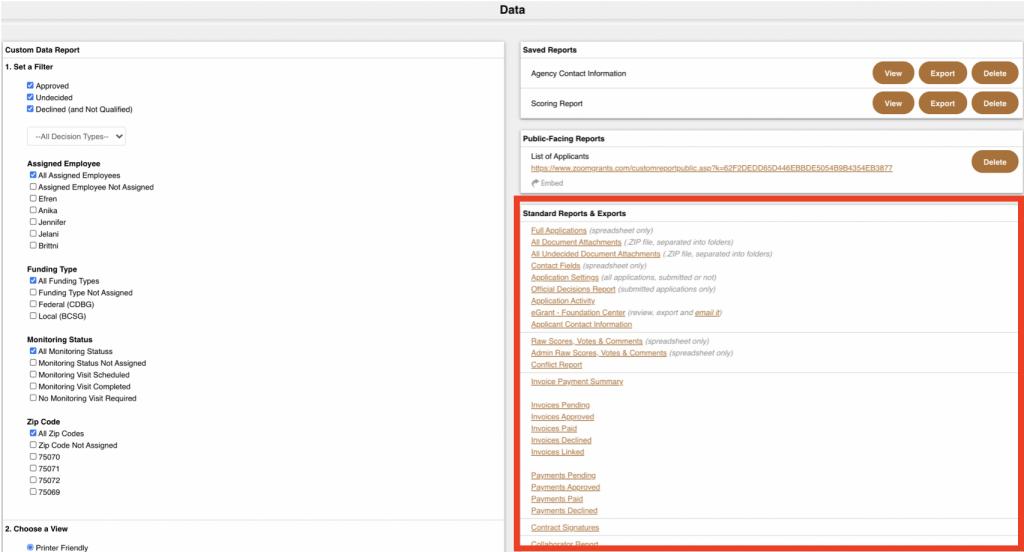 Application & Review Data – CSV Exports
You can also click into the Data tab to use our Standard Exports to quickly download the following data sets in .CSV format:
Full Applications
All Application Question content, Budget information, Activity Log, etc. (does not include document attachments or data from the Tables tab) from submitted applications
Contact Fields
Application Title, Organization Name, Applicant Contact information, Executive Director/CEO Contact Information, Additional Contacts, Official and Trial Decisions, etc. from submitted applications, Proposal ID, Pre-Screening
Raw Scores, Votes & Comments
Scores, Votes, & Comments from your Committee
Document Attachments – ZIP Files
All Document Attachments (.ZIP file) – All attached documents
Downloading Linked Files
This ZIP file does not include linked files. To download all of the linked files more easily, run a printer-friendly custom report that pulls the Document Attachments field data, then click on each linked file (denoted by the word "Link:") to navigate to and download that file.
Downloading Files from One Application
Export a .ZIP file of the attached documents on a specific application by clicking into the Documents tab then clicking the Download All Attachments button at the bottom of the page. Linked files should be downloaded separately.
Exportable Reports Viewable Online
Additional, there are several standard reports that can be viewed online and exported to an Excel file, including:
Application Settings
Applicant First Name, Last Name, Email Organization, Application Title, Submitted Official Decision, Official Award, Trial Decision Trial Amount, Pre-App Submitted, Pre-App Decision, Notified/Decision Viewable, Open for Editing, Primary Contact
Official Decisions Report
Program Title, Organization Name, Application Title Applicant Email, Request Amount, Date Submitted, Official Decision, Official Amount Decision, Viewable to Applicant, ZoomGrants Application ID No., ZoomGrants Recipid No.
Conflict Report
Reviewer conflict statements
Invoice/Payment Reports
Invoice Payment Summary, Invoice Reports, Payment Reports
Applicant Contact and General Application Information
Application ID, Applicant Name, Addresses, Phone number, Email, Requested Amount, Pre-App Submitted, App Submitted